Lockdown Bright Side: 20 Youth Secure Millionaire Jobs at The Black Wall Street
The Black Wall Street 'Bye Bye' Unemployment program has kicked off with a bang as 20 young ladies from different parts of the country have secured full-time employment contracts with basic salaries of 1 million shillings per month.
They also have added benefits of breakfast and lunch at the workplace, drivers with official cars that provide a commute to work as well as bonuses and commissions for productivity.
The ladies who completed their one-week induction training enjoyed a pool party at the BWS House in celebration.
The 20 ladies Patricia Namanzi, Gatsby Constancia Nakato, Namakula Faridah, Nakayiki America, Faith Elleen Emuria, Mukakalisa Violette, Evelyn Mugisha, Sheeba Birungi, Margaret Kirabo Namale, Joan Uwera, Nakandi Mary, Bato Harriet, Otome Winnie, Kababoopi violet, Obatia Gladys, Namatovu Shakira Nankunda Maureen, Chelangat Yvvone, Amongin Winnie Stella, Munyodi Joyce.
The ladies will oversee the continued growth and commercialization of the first Uganda originated and exported Stock in history known as Universal Poverty Alleviation Program (UPAP) which was created by Charles N Lambert in 2017 and today has sold over 18,000 out of the 20,000 issued units in 36 countries in Africa including the UK, US, and Canada.
The commercialization of UPAP is the industrialization of Africa according to Lambert. This is implemented through these officers who will work with 12,000 Accountants across Africa to help African industrialists seek and obtain both capital and technology for local manufacturing of various consumer and industrial products since the market is already secured through Redirect Mall.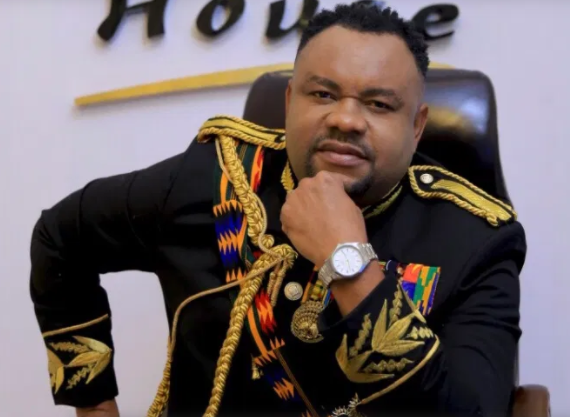 Charles N Lambert, the chairman of the Black Wall Street
The admission of these officers marks the actual beginning of Black Wall Street becoming the catalyst for the industrialization of Africa as one million industrialists are expected to apply through them each year from the entire 600 jurisdictions and over 20,000 industries funded per month through the principles of Compassionate Capitalism Revolution Investment Points.
Great days are here for Africa and as long predicted and prophesied, they begin in Uganda, Wakanda, Africa's Capital by Divine Providence. They begin at the Resurrected Black Wall Street after 100 years of destruction by racists capitalists.
Comments gathered from the ladies include the following.
'I Am glad to be part of the internal army of Black Wall Street as UPAP Relationship Officer. Members who will have UPAP will be able to have smiling pockets always throughout their lifetime based on its benefits.I want to take this opportunity to thank the chairman Charles n Lambert for such a brilliant idea of UPAP," Faridah Namakula
"Black wall street is an organization that will help us fight poverty through the UPAP program initiated by Charles.N.Lambert. I believe if we all take part in this program we shall prosper as Africa. Thank you chairman Charles Lambert for this idea. Africa we are winning," Chelangat Yvnne said.
"Personally speaking, am thankful and grateful to have this opportunity to work with the black Wall Street that aims at liberating Africans and eradicating poverty.
Yeshua the Christ bless the great Charles N Lambert for his great work and for creating employment opportunities and helping out the forgotten African countries," Joyce Baigereza Muyodi.