Kayanja Muhanga Among 40 Elevated UPDF Generals
President Yoweri Museveni who is also the Commander-In-Chief of the armed forces has promoted 40 senior officers of the Uganda People's Defence Forces (UPDF) to various ranks.
Seven Brigadier Generals have been  promoted to the rank of Major General while 33 Colonels are now Brigadier Generals.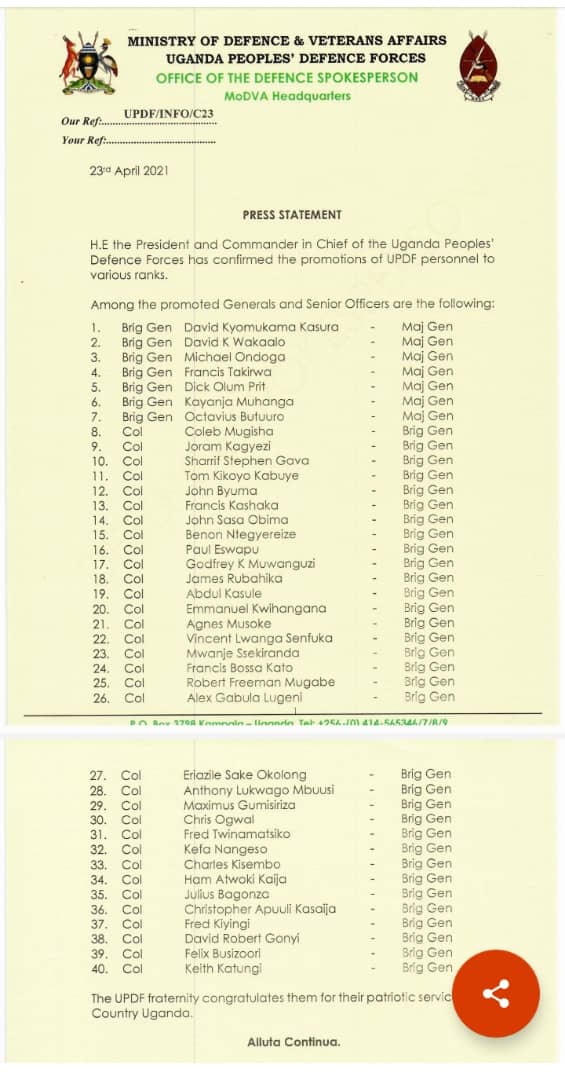 Some of the promoted officers include Brig. Kayanja Muhanga who is now a Major General.
Gen Kayanja coordinated security operations in Kampala during the just concluded elections.
Gen  Muhanga previously served as Commander of the UPDF contingent in Somalia and earlier, in 2014, led the UPDF operations in South Sudan.
Other elevated senior officers are; Maj. Gen. David Kyomukama Kasura, Maj. Gen. Octavius Butuuro, Maj. Gen Francis Takirwa, Maj Gen. Dick Olum Prit, Maj. Gen Michael Odongo and Maj. Gen David K. Wakaalo.
Those promoted to the rank of Brigadier General include Military Police commander Keith Katungi.
A statement issued UPDF, says the officers were promoted in recognition of their patriotic services their Country.