Museveni Tells Youth to Shun Drugs, Emphasizes Ideological Clarity
"You are taking drugs and you say you want to be a youth leader. We need youth who are spiritually and morally upright and productive. That is what I always tell my grandchildren," Mr Museveni said
The NRM presidential flagbearer Yoweri Museveni has urged the youth to be disciplined ideologically, spiritually, morally, educationally and technically if they are to be useful to themselves and to Uganda.

"When we talk about the youth these days, they talk about biology or age. That is very dangerous. We need youth that are disciplined and ideological," he said on Wednesday while addressing youth leaders from Bugisu sub-region at Mbale Senior Secondary School.

This was in the buildup to the door-to-door village mobilization campaigns for votes for candidate Museveni. The meeting was also attended by the NRM vice-chairman for eastern region Capt. Mike Mukula and NRM deputy secretary general Richard Todwong.
Mr Museveni also noted that young people seeking leadership should lead by example to win the trust of those they seek to serve.
Museveni, while meeting NRM youth leaders from Bugisu sub-region on Wednesday, said the concept of youth had been misconstrued and abused.
"You are taking drugs and you say you want to be a youth leader. We need youth who are spiritually and morally upright and productive. That is what I always tell my grandchildren," he said.
Museveni said he was very active in his youth and nurtured many fellow young people in his house, adding that if the youth do not uphold those qualities, they will be a failed generation who will not go far and may become a problem to their families and to the country.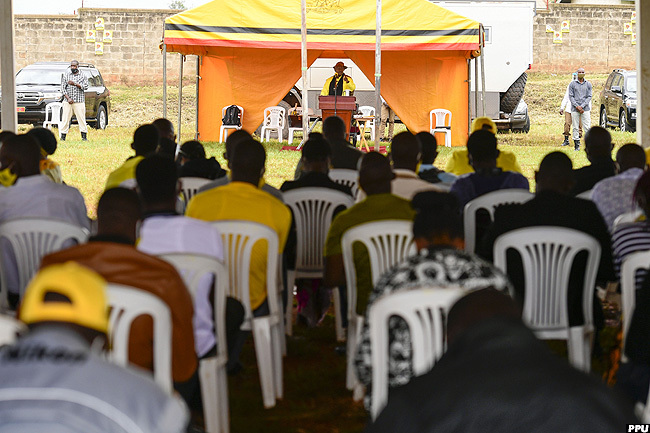 He said that at the time of independence, most of the leaders were all young and were not prepared to run the affairs of the country on the basis of taking care of the needs and interest of the people.

"The leaders of those days were emphasizing identity along tribal and religious lines and looking down on women," he said, adding that "this trend caused them to fail, plunging the country into chaos".

"Such mistakes must not be repeated. I don't want that to happen again especially to the NRM youth. You should not fall into that group."

President Museveni explained to the youth the history of Africa and the reasons why the continent lagged behind for a long time.

He said for ideology, the NRM insisted on four principals: patriotism, Pan-Africanism, socio-economic transformation and democracy, which he encouraged the NRM youth to internalize and explain to the people.

Museveni also emphasized the need for the youth to think broadly and understand the benefits of having an integrated East Africa and Africa, saying it is good for Uganda's prosperity in the context of trade.

"Your future lies in Uganda, East Africa and Africa for prosperity."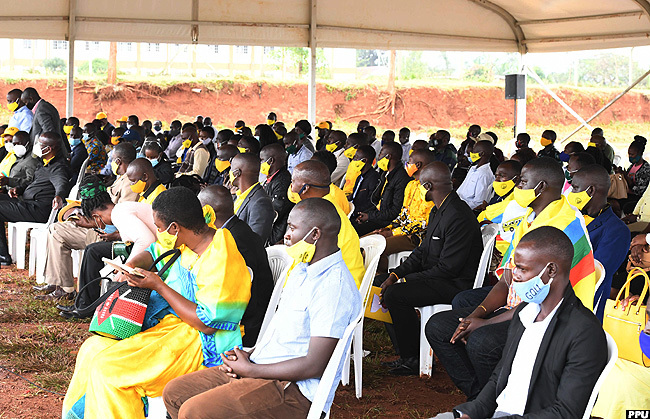 Commenting on the current scientific campaigns, candidate Museveni welcomed the idea of the youthfully participating in the mobilization exercise together with the already existing NRM structures in the villages, and urged them to engage those of the opposition and ask them what they are opposing.

"If it is corruption, yes, we are also totally against corruption. It can be worked on, but now what are they opposing? There is no opposition in Uganda that I cannot defeat because they have no logic. When in Luwero fighting, we could approach the UPCs and ask them what they were fighting for. I would engage them with our ideology and they would change immediately to support our cause," he said.

The President told the youth leaders that the Opposition has no track record to show nationally and locally of their good deeds and had already discredited itself in the region by insisting that people stay in the mountains and later disaster struck, where many people died in the mudslides.

Museveni welcomed the idea of the youth taking over the ideological NRM heritage, saying they, too, during their youth took up the heritage of the late Mwalimu Julius Nyerere of Tanzania.

Commenting on, Emyooga funds, the President explained that this is a direct transfer of money to the already existing groups and government has already disbursed shs560m for each constituency.

"This is your bank. You have to ensure that it grows," he said.

The Emyooga programme is a presidential initiative on wealth and job creation and it targets Ugandans, especially in the informal sector, who come together in form of savings and credit cooperative societies. 

On innovation parks, Museveni said a park will be established in all zones, including Bugisu. In Luwero, he added, a leather tanning factory is being built and will help the youth in making shoes.